WHATSAPP US
Guestlist & Table Bookings


Get on Guestlist

Reserve a Table
Roof Gardens is a very popular venue for those looking for an open space garden-type nightclub. This venue is one of the best nightclubs in London that you want to visit if you are ever in this side of the town. Also check the Roof Gardens Entry Price here. As for inquiries on the Drinks and Bottle Prices Menu for Roof Gardens, we have compiled the information in this single page so you can use this as reference.
Drinks and Bottle Prices Menu for Roof Gardens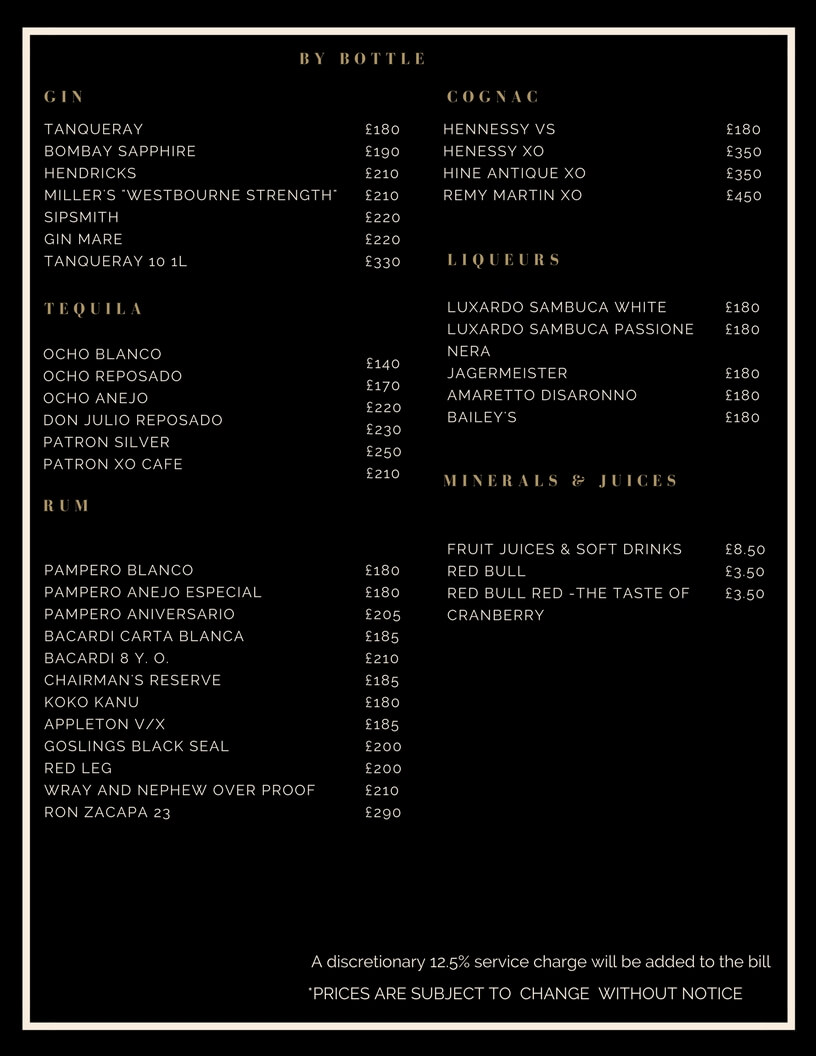 Before you start picking your drinks at this party hot spot, do note that a Roof Gardens Table Booking requires a minimum spend of £1000, while the VIP tables on the Roof Gardens Guestlist reservation have a minimum spend of £2000. With that in mind, let's dive into more detail on how much your night out can cost.
What is the Roof Gardens Bottle Price Menu?
A genuine bottle of Tanqueray will cost £180, and the Tanqueray 10 y/o is more on the higher end of the list at £330.
Cognacs can cost you between £180 to £450, and Hennessy, Remy Martin, and Hine Antique tops this list, which are Roof Gardens Celebrity favorites.
Shots of tequila can be ordered, but it can also be done by the bottle. Patron Silver is £250 while Ocho Blanco costs peanuts at £140.
There is a wide array of selections for Rum lovers. The most expensive bottle for Rums is the £290 Ron Zacapa 23, while the cheaper  Red Leg is available for £200. Pampero Blanco is priced at £180, and the Anniversario by Pampero is priced at £205.
If used as mixers or drank straight up, these liqueurs are also up for taking. Bailey's is priced at £180, and the party favorite Jagermeister also sells for the same price. A liter of soft drink or fruit juice costs £8.50, while the Red Bull cans are available for £3.50 at the Roof Gardens Bottle Price Menu.
Champagnes are also available, and they have a good range to choose from. The Beaumont Cuveé Brut is for £58, and the Bollinger is priced at £115. If you want the perfect drink with that Roof Gardens Dress Code compliant attire, a Laurent Perrier Grand Siécle might be more of your pick at £290 per bottle.
Punches also abound the menu, with prices that range from £90 – £130. These are presented in the Roof Gardens trademark Watering Cans and is a lovely drink to enjoy through the night. Non-alcoholic cocktails are also on the list, and they all cost £15 an order.
By far, Roof Gardens offers cheaper prices on its Roof Gardens Bottle Price Menu but is not any less when it comes to flavor. Check out other London Night Guide pages for more information on your planned night out at this amazing venue.

Get on Guestlist

Reserve a Table
FOR MORE INFORMATION PLEASE CONTACT US DIRECTLY
+44 752 352 8885
+44 752 352 8885