The Best Thursday Clubs In London: Where To Party On Thursdays
Thursday nights are often overlooked in the club scene. Many people prefer to save their partying for the weekend, but why should Friday and Saturday have all the fun? Thursdays are the perfect time to let loose and enjoy a night out on the town. With so many great options for Thursday night partying in London, it can be hard to decide where to go. To help you out, we've put together a list of the best Thursday clubs in London, complete with all the information you need to make your decision. Whether you're in the mood for a wild night of dancing or a more low-key evening of drinks and conversation, there's a club on this list for you. So, grab your friends and get ready to party on Thursdays like never before!
From the high-energy clubs that keep the party going all night long to the more relaxed lounge-style venues, London has something to offer for everyone on Thursdays. Whether you're looking for a night of dancing and drinks, or a more laid-back evening of mingling and socializing, you're sure to find a spot that suits your style. Whether you're looking for a night of dancing and drinks, or a more laid-back evening of mingling and socializing, you're sure to find a spot that suits your style.


Tonteria
Tonteria is a Mexican-themed nightclub located in London's Sloane Square area. The club was opened in 2012 and has established itself as one of London's most popular nightclubs, hosting parties for celebrities such as Prince Harry and Leonardo DiCaprio. The club is known for its unique atmosphere, featuring Mexican hacienda decor and an extensive selection of tequila. Tonteria also offers a range of entertainment, including fire performers and Mexican Lucha-Libre wrestlers.
The club is open during the early evening for tapas and tequila cocktails and transforms into a nightspot with music and dimmed lighting. Tonteria has a dress code policy and an entry fee of £20, but ladies have a complimentary entry from 11 pm to 11:45 pm. Table reservations are also available, with prices ranging from £500 to £1000. The club also offers a pre-party dinner option, where admission includes access to the party with no additional charge.

BOOK TONTERIA
Luxx
Luxx Club London is a high-end nightclub located in the exclusive Mayfair neighborhood on Berkeley Street. The club opened in September 2019 and features an electric light show theme with cascading red lights on the staircase, moving light boards, retro video arcade games, and LED imagery throughout the club. The centrally located DJ booth is also surrounded by LED lights and a large LED board hovers above.
The club is large with large tables and VIP tables in raised areas. Luxx plays a mix of commercial R&B, Hip-hop, and unique brands of music. The club is open Tuesday, Thursday, Friday, and Saturday, and has varying hours depending on the events and performers. The club is surrounded by elite restaurants, casinos and private member's clubs. The founder's vision was to create a late-night venue with quality entertainment and excellent service that matched the exclusive location. The club also offers private rooms for multipurpose use and is one of the only clubs in the area.

BOOK LUXX
Cuckoo Club
The Cuckoo Club is a luxurious, two-floor venue in London, covering 5,000 square feet of stunning design. The club caters to all types of moods, with the second floor offering a dancing and music atmosphere and the first floor offering a more relaxed, speak-easy ambiance. The club was redesigned by Barbara Hulanicki, the founder of the iconic fashion house Biba.
The club features world-class DJs and famous celebrities, Europe's top mixologists, and a diverse cocktail menu. The club is known for its exclusivity and its committee, described by Vogue List as "formidable". The club is divided into two floors, Cosmos, which is located on the ground floor, and The Garden, located on the lower floor. The Cuckoo Club is known for its tribute to rock classics and its pink and black color scheme. If you wanna party at Cuckoo Club, reach out to London Night Guide for table reservations.

BOOK CUCKOO
Maddox
The Maddox Club is a private members' club located in the exclusive area of Mayfair, London. It is known for being one of the finest private clubs in the city and is unique in that it combines a DJ booth with a top-tier restaurant. The music played by the DJs is top-notch and provides a great soundtrack to the dining experience. Once finished eating, guests can head to the dance floor to dance to music from some of the world's top DJs.
The downstairs of the club boasts an electric atmosphere with leather booths and tables around the perimeter for relaxation and a center dance floor for partying. The club operates a strict 'members-only' policy, and members must be referred by a current member to gain access. The club offers a versatile space over two floors, with a Mediterranean restaurant, premium bottle service, a shisha lounge, smoking areas, and a members-only Green Room.

BOOK MADDOX
Reign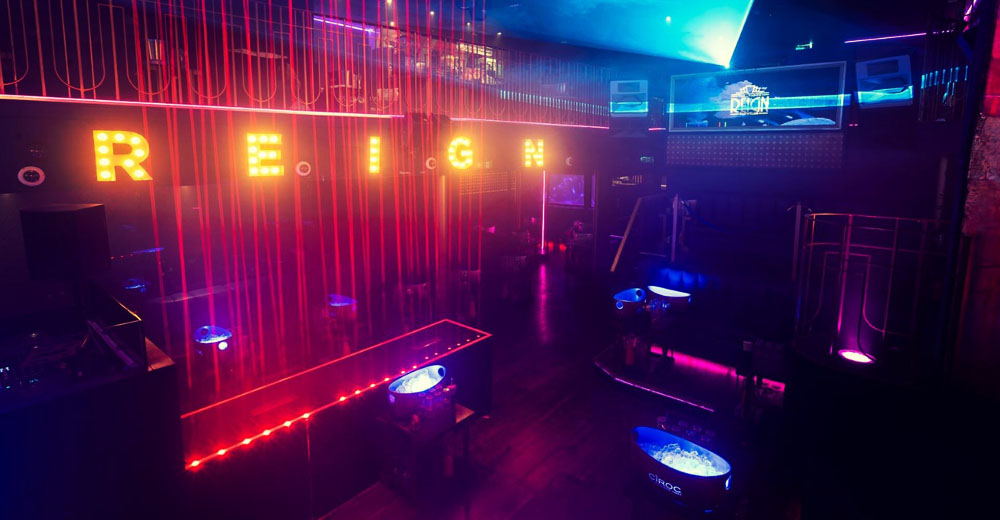 The London Reign Show Club is a luxurious venue located in the heart of London, in the exclusive area of Mayfair. It offers a unique experience, combining performance theatre and aerial acts, creating a night of indulgence and escapism. The venue features two performance stages, with a variety of acts including dancers, fire artists, acrobats, musicians, and theatre performances.
The interiors are designed with a Vegas-style glamour, with bright lights and showtime decor. Guests can also enjoy a food menu featuring canapes, bowl food, and a Teppanyaki bar. It's a private members club and getting on the guestlist is difficult as spaces are limited. We recommend London Night Guide for hassle-free booking at Reign.

BOOK REIGN
Wyld
Wyld Club, located near Green Park in London, is an eco-conscious nightclub that has earned the Butterfly Mark sustainable certification from Positive Luxury. This certification is awarded to businesses that have a positive impact on nature and society. The club has a focus on sustainability and is known for its unique atmosphere, with decorative plants and LED trees as centerpieces.
The VIP area is also a main attraction, offering a luxurious and unforgettable experience for guests. The club also offers bespoke cocktails mixed by resident mixologists and has regular DJ nights with a lively and energetic atmosphere.

BOOK WYLD
Conclusion
So there you have it, the best Thursday clubs in London that are sure to give you a night to remember. Whether you're looking for a luxurious and exclusive experience, a night of wild dancing and bespoke cocktails, or a unique and sustainable night out, these clubs have got you covered. Don't just take our word for it, head out to one of these clubs and see for yourself what makes them so special. And if you're looking for the ultimate VIP experience, be sure to contact London Night Guide to book your table reservation or secure a spot on the guestlist.
At London Night Guide, we pride ourselves on providing the best service and experience for our clients. We take care of everything from table reservations and guestlist to transportation and bottle service. Our team is dedicated to making sure your night out in London is one to remember. So, don't hesitate to contact us, and let us help you plan the perfect night out at one of these amazing Thursday clubs in London. Whether you're celebrating a special occasion or just looking for a wild night out with friends, we've got you covered. Let us show you the best of London's nightlife scene and make your Thursday night one to remember.
If you're not sure which club is right for you, just give us a call or send us an email, and we'll be more than happy to help you choose the perfect venue based on your preferences. So, why wait? Contact London Night Guide today and let us help you party like a VIP in London's hottest Thursday clubs.
FOR MORE INFORMATION PLEASE CONTACT US DIRECTLY
+44 752 352 8885
+44 752 352 8885