WHATSAPP US
Guestlist & Table Bookings


Get on Guestlist

Reserve a Table
Whenever you are out to party in London, one of the biggest concerns is how much will the bottle prices be. Here at London Night Guide, we give you the information you need. With a great club like Bodo's Schloss, expect that a night will not be complete without a round of shots, or downing your favorite bottle of your choice. In line with this, information for the Bodos Schloss Bottle Price Menu for VIP Tables is right here with the London Night Guides. Here are the Drinks and Bottle Prices Menu for Bodoss Schloss for your reference.
Drinks and Bottle Prices Menu for Bodoss Schloss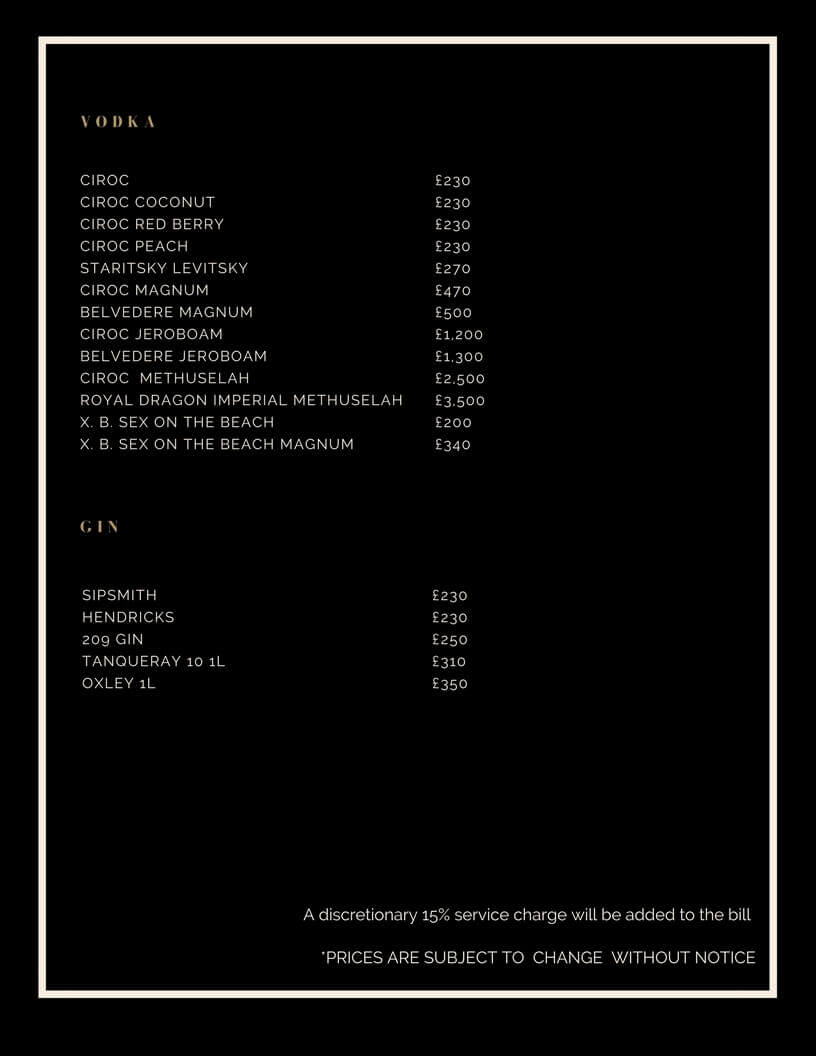 What is the Bodos Schloss Bottle Price Menu?
With every Bodo's Schloss Table Booking, a minimum spend is always required. The pricing for these table reservations differs with the group size you have. Generally, the minimum spend is £1000, and you can select from the extensive list of drinks available on the menu. The general rules of thumb is for you to scale your orders from the Bodos Schloss Bottle Price Menu in accordance with your group size. Also, you need to pay the Bodo's Schloss Entry Price on the door.
The cheapest bottle you can get from the menu is a Ciroc Vodka, priced at £230, which is a definite steal. The most expensive bottle in the Vodka list will be the Royal Dragon Imperial Methuselah, which is a priced at £3500 – a great pick if celebrating a special occasion with a Bodo's Schloss Guestlist reservation.
If Gin is more of your choice of spirit, then a 209 Gin at £250 is definitely good. A crowd favorite, the 1 liter Oxley is also available at £350. If you need a mix with your drinks, kindly ask the bartender or waitresses and they will provide you with a selection of popular mixes such as juice and redbull. Better check our the Bodo's Schloss Birthday Package deals we have in store for the celebrants.
For those who are looking to take it easy for the night, a champagne might right be your alley. The usual choice would be to with Dom Perignon at £295, which is the most affordable pick on the list. If you are dressed to impress in accordance with the Bodo's Schloss Dress Code, then a Cristal Magnum would be a good choice as well, priced at £1500. The most expensive bottle on this list will be the Cristal Methuselah, listed at £35000. This is the definite choice of Bodo's Schloss Celebrities who frequents this fantastic venue.
As with all planned night outs in London, getting on the Bodo's Schloss table booking reservation list might be hard, but with London Night Guide, this is provided to you free of charge. Bodo's Schloss is so in demand, that getting in the Bodo's Schloss guestlist in advance will be to your advantage. For further information needed on the Bodos Schloss Bottle Price Menu for VIP tables, hit us up and we'll gladly answer your questions.

Get on Guestlist

Reserve a Table
FOR MORE INFORMATION PLEASE CONTACT US DIRECTLY
+44 752 352 8885
+44 752 352 8885