BOUJIS NEW YEARS EVE 2017 – TICKETS
Experience a once in a lifetime glamorous life by joining us in celebrating New Year's Eve 2017 at one of the most exclusive clubs in London, Boujis! Embrace the spirit and the energy of one of the most fascinating nights of the year and party surrounded by the most stylish and fashionable crowd.
For New Year's Eve 2015, Boujis will be transformed into Le Boujigloo and dressed on both the interior and exterior.
Expect the unexpected and look forward to one unforgettable New Year's Eve!  Undisputed for its exclusivity and sophistication, Boujis is the best nightclub for New Year's Eve 2017. Make sure you are following us on Twitter, Facebook, and Instagram! What we can guarantee you is that Boujis has never disappointed their patron because every year is something that everyone is looking forward to! Boujis is definitely the perfect venue for NYE! Boujis has an over 21's Policy and scan ID cards upon entry.
Doors open 10:00pm till 6am. Entry is at the discretion of the door management team.
Below are some information you need to know for Boujis NYE 2017 –  ticket prices, table prices, dress code and other details:
Tickets: For non members: £125 (Includes unlimited Champagne/Vodka)
Tables:
Dance floor Tables: £250 per person minimum spend.
Club Tables: £200 per person minimum spend.
(Minimum 6 people and Maximum 10 people)
There is unlimited vodka and champagne throughout the evening.
Please note a 50% of your minimum spend deposit and relevant amount of tickets payment is required in order to secure your table booking. Please contact us for NYE table bookings at Boujis.
Dress-code: Over The Top. Ladies – classy, sexy, trendy and must be in heels. Gentlemen – smart, elegant and NO trainers allowed.
To receive Boujis NYE updates, London Night Guide will be asking you to fill out the contact form below for pre-book for NYE event. We suggest you pre-book tickets for this year's event to avoid any disappointment. Rest assured you will receive a confirmation message from one of our team members.
More London New Years Eve Parties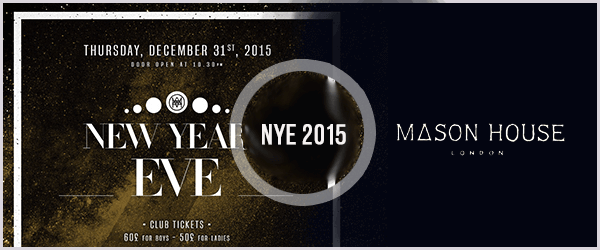 FOR MORE INFORMATION PLEASE CONTACT US DIRECTLY
+44 752 352 8885
+44 752 352 8885