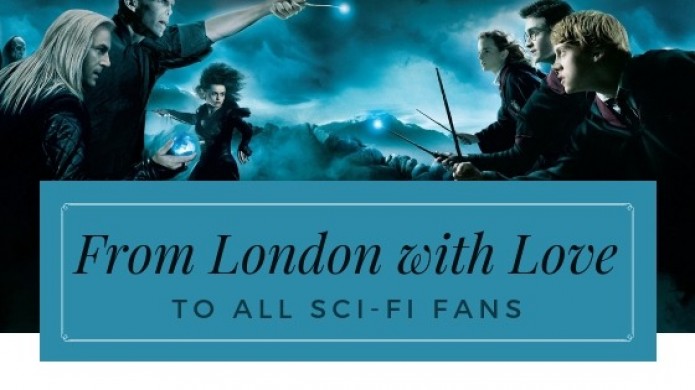 This goes out to all of our sci-fi fans, from all over the world. As we all know, some of the most iconic movies and TV-series, lucky for us, are created in London. Now, we will not question your love for the sci-fi genre, because you clicking on this article shows enough. We are just here to create a compilation of sightseeing stops and tours, to help you have an amazing time. This is from London with love to all Sci-Fi fans!
Harry Potter
Expelliarmus! Or wait, is that not correct? Oh well, we can't do everything perfectly, but what we did do, was find some of the top spots in London, which transport us to some of the most well-known scenes from Harry Potter! One of our favorite from London with love to all Sci-Fi fans!
Leadenhall Market
This is truly a very interesting and beloved place to visit for all 'Potterheads'. You might recognize it as the location where students went to do their school shopping, before going to Hogwarts. While walking down this market, which is usually a fish and meat market, you might also notice an optic shop with blue doors which in the movies is portrayed as the entryway to the "Leaky Cauldron". In itself, the market is also beautiful, with its Victorian architecture dating all the way back to the '80s.
Platform 9 ¾
This place doesn't need much introduction. If you have gotten your letter from Hogwarts, then you can be on your merry way to the Hogwarts Express, through this platform. If you are simply a fan, looking to be a part of this magical world, Kings Cross Station has set up a place where you can get your photo taken with a trolley, which seems to have almost disappeared inside the platform. While there you can also visit the Harry Potter shop.
The Georgian House
After a long day of touring beautiful London for her interesting locations, what better place would there be to rest, rather than your own 'Wizard Chambers' hidden behind bookshelves?! The Georgian House Hotel can offer you that for around 407$ a night.
Sherlock Holmes
Now we know this may seem a bit controversial, but seeing as the story itself is a parallel universe, in which the author never existed, we consider it to be science fiction. We can thank John Watson and his blogs/autobiography for that!
221B, Baker Street    
The place where it all started! The house which Sherlock and John Watson shared, after Sherlock asked him to be his roommate, and fortunately for us later on, his partner. Because of the big interest fans had in the stories and characters, at numbers from 237 to 241, a Sherlock Holmes museum was build. It is the exact replica of how the apartment is described down to the details, and also every fan's fantasy.
The Sherlock Holmes Pub
This pub is also inspired by the apartment and it is an alternative and authentic way of enjoying the view, seeing as all the equipment were installed there after the "Festival of Britain" in honor of this new character. Even the walls in the pub have detailed, such as the bullet holes which carve out the initials 'VR', in the name of Victoria Regina.
Doctor Who
The TV series, that took Britain by storm since 1963. It is nearly impossible for someone to be able to explain Doctor Who to another who has not watched the show. As time goes by, they have continued to steal our hearts, with one charismatic Doctor after the other, and so London became the house of fond memories and locations, some of which we will mention below.
Earls Court Police Box
For many, it may be just a relic or another art piece, but for the 'Whovian' eye it is none other than the sexy TARDIS. It is all available for your enjoyment, so you can take a picture and feel as if 'The Doctor' will just open the door and sweep you inside for a run through the galaxy.
The Doctor Who Shop and Museum
All you have to do is enter the 'Who Shop' located in East London, and you will find yourself in a whole new universe. The shop is owned and managed by a lovely couple who are fans of the series. At first, you may not understand how this store can also be a museum, but when you purchase the ticket, you are provided with a key to a TARDIS entrance, and everything will make sense.
This is all from London with love to all Sci-Fi fans!
FOR MORE INFORMATION PLEASE CONTACT US DIRECTLY
+44 752 352 8885
+44 752 352 8885